I hated tuna for almost forty years, but then I was presented with a fresh tuna steak in Harbour Island. I felt I had to eat it to be polite but wow! It was a totally different fish; a world away from any tuna I had ever tasted. Of course, being out of the water for only a few hours made a huge difference, but even so, it made me wonder what went into the tuna that most of us know.
I still loathed tinned tuna until Nigel (Stengard-Green, a friend and co-holiday house owner) asked me to taste a tuna salad he had made. Another revelation – fantastic flavour and texture. Wonderful. The key to this dish, as always is in the ingredients, so make sure you pick an exceptional tinned tuna. It won't be cheap, but you don't need too much of it, only half a tin per person. I still hate (most) tinned tuna but, in précis, this tuna is line-caught Yellowfin which means your family won't be eating Flipper or one of those expensively-trained US Navy dolphins…
So here is Nigel's recipe and his silly drawing …!
- tinned tuna (ortiz brand) in oil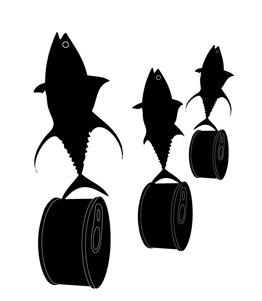 - penne
- sun dried tomatoes or sundried peppers
- 2 spring onions (or 1 small leek if out of season)
- basil (fresh if in season, in oil if not)
- salt and black pepper
- 1 or 2 hard boiled eggs (optional)
- pitted olives
If you must use eggs (Nigel hates hard boiled eggs), boil them for 4 minutes and immediately place in cold water. Peel the shells and leave in cold water until cool. When you start the eggs, drop the penne into boiling, very slightly salted water with a touch of olive oil, and cook according to the packet instructions; approx. 10 minutes. Meanwhile mix half a tin of the tuna with its oil with the spring onions, chopped sun dried tomatoes or peppers, roughly chopped fresh basil, salt and pepper. Once the Penne has cooked and cooled, mix in, along with roughly chopped egg if you like that sort of thing. Instead of tuna use mackerel or sardines for more variety.
Do try it as it is great recipe, a simple one for a summer lunch at my beach house, or for a beach picnic.  Caroline x